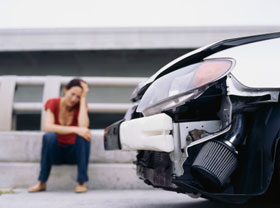 Though it's not the ideal way to get acquainted, here at North Edmonton Chiropractic & Massage Clinic, we make friends by accident. If you've been involved in a motor vehicle accident, we're ready to help you!
After you've had an accident, it's your choice what type of treatment to receive, provided you've been cleared of any serious injury and completed the necessary reporting forms. Insurance companies often recommend physiotherapy or massage. Consider chiropractic. It's an excellent form of natural health care to try. Dr. Fitz will provide you with the necessary insurance forms to complete at his clinic. Once you are approved you will receive 21 treatments of your combination of chiropractic or massage therapy. Here are some reasons to consider chiropractic care following an auto accident.
Benefits of Chiropractic Following an MVA
It Addresses Whiplash
Did you know even minor collisions can result in whiplash? The sooner you seek care for whiplash, the less of an issue it will be. On the other hand, the longer you put off addressing whiplash, the harder it is to treat. Never wait until pain sets in. Chiropractors can effectively help to manage whiplash every day.
Hidden Injuries May Be Present
You could have experienced additional injuries without even realizing it. Dr. Fitz will examine you and will identify any other issues if they are present.
It Could Strengthen Your Legal Claim
If you weren't at fault in the auto accident, the other driver's insurance is responsible for pain and suffering, wages losses and any ongoing disabilities. If you have an open claim, you may be eligible for this compensation. Seeing a chiropractor for treatment right away strengthens your claim. Dr. Fitz can provide documentation of your visit history. This information can help your case and allow you to get the financial compensation you deserve.
You Can Get an Attorney Referral
Because Dr. Fitz works closely with personal injury attorneys, and he can help you to obtain the legal representation you need for your accident claim.
If you've been involved in an auto accident, there are some essential steps to take. Please see our page on Motor Vehicle Accidents. You should also contact North Edmonton Chiropractic & Massage Clinic right away. We want to help you get the care you need so you can get your life back.